2023 Dodge Charger in Brampton, ON
2023 Dodge Charger in Brampton, ON
The 2023 Dodge Charger in Brampton, ON, symbolizes power and style. This iconic vehicle combines aggressive design elements with cutting-edge technology to provide an exhilarating driving experience. This article will explore the features and specifications that make the 2023 Charger a standout choice for car enthusiasts in Brampton and beyond.
Exterior Design
The 2023 Charger boasts an imposing exterior that turns heads wherever it goes. With a bold and muscular shape, this vehicle exudes power and dominance on the road. The sleek lines and aerodynamic profile enhance its performance and efficiency.
The Charger offers various exterior features that add style and convenience to its design. For instance, the sun/moonroof adds an extra touch of sophistication to the Charger's exterior. It allows natural light to flood the cabin while offering a breathtaking view of the sky above. On the other hand, the rain-sensing wipers automatically activate when rain is detected. This feature ensures optimal visibility during inclement weather conditions.
The Charger also includes a universal garage door opener integrated into the vehicle. Additionally, the Charger is equipped with automatic headlights that adjust to the surrounding light conditions, ensuring optimal visibility at all times.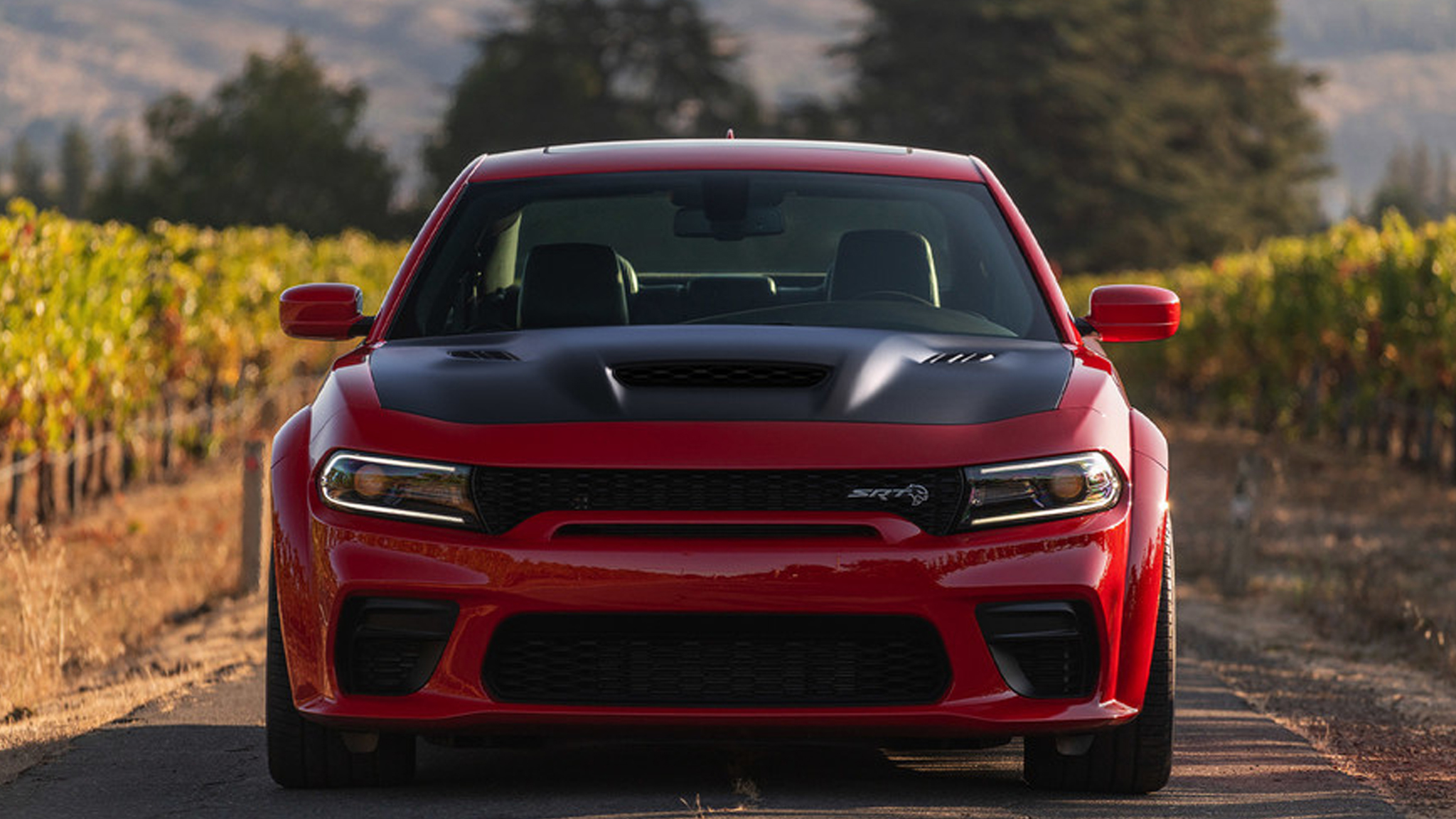 Interior Comfort and Cargo Space
The Charger offers a range of features that prioritize passenger comfort. The climate control system provides individualized comfort. With multi-zone air conditioning, everyone can enjoy their preferred temperature settings. The heated front and rear seats offer maximum comfort in colder climates.
To ensure a comfortable driving experience, the 2023 Charger includes driver and passenger adjustable lumbar support. This feature allows individuals to customize their seating position and enhance comfort during long drives. As for cargo space, you'll have 471 litres in the trunk.
Infotainment and Technology Features
The Charger features steering wheel-mounted audio controls. This allows drivers to easily adjust the volume or change radio stations without taking their hands off the wheel. This feature promotes safety and convenience. The built-in navigation system also ensures drivers can easily find their way. With real-time traffic updates and voice-guided directions, getting to your destination has never been easier.
Performance Features
The 2023 Charger is a performance-focused vehicle with exceptional power and driving dynamics. It houses a powerful V6 3.6-litre engine that produces 292 horsepower and torque of 260 lb-ft. The power steering of the Charger enhances maneuverability and responsiveness. With precise control and excellent handling, tackling corners becomes a delight.
The RWD configuration offers exceptional handling and balanced weight distribution. This drivetrain setup ensures optimal traction and control. The 8-speed TorqueFlite automatic transmission provides seamless gearshifts and enhances fuel efficiency.
Safety and Driver Assistance Features
The Charger is equipped with a comprehensive airbag system that includes six airbags. Disc brakes with ABS also deliver reliable stopping power. The Charger also offers various driver assistance features that enhance driving safety and confidence. Brake assist provides additional braking force in emergencies to reduce stopping distances. The blind spot monitor alerts drivers to vehicles in their blind spots. This mitigates the risk of collisions during lane changes.
Get Yours Today
The 2023 Dodge Charger offers power, style, and comfort to impress any car enthusiast. With its bold exterior design, luxurious interior, and advanced features, the Charger provides an unparalleled driving experience. Find your 2023 Dodge Charger today at Brennan's Dixie in Brampton, ON.